Feeling so much better today! I am starting to take some Brazilian Embroidery lessons this week. It looks so difficult, but I am stoked! It's all so pretty :)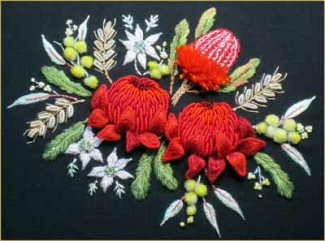 I hope I catch on quick. It looks like it takes alot of patience, something that I don't have much of. I love embroidery SOO much! and someday I want to sell it, so I figure it won't hurt to learn as much as I can about it.
I also finished my first quilt yesterday!!! Yay! I'll post pics hopefully tomorrow. I'm having a very lazy Saturday. I went yard selling this morning with my mom and sister-in-law, took a nap, went to lunch with Chase, and I've been sitting on my computer and watching movies the rest of the day... I feel fat and lazy, but I think I should be allowed to get at least one lazy day each week...right?
I found this lovely lampshade tutorial today.
I have a tall antique lamp from my parents and I've been looking for the perfect shade for it and I may just have found it... and better yet, it's one I can make on my own! Find the tutorial
HERE
.
-Brenna